Discussion Starter
·
#1
·
Ok, I got around to install my short shifter today after work. First off, this was about an hour job to install the shifter. I also bought the knob and boot with it. I didn't install the boot yet because it's going to take some modification to make it fit right to my standards. I don't want a boot on there that is going to be sloppy and have gaps to allow dirt in...so I'll pick a time to install it. For now, the stock boot stayed on.
The shift was a real easy install. I had my friend Phuong with me (he's a master at ricing, something he'll decline but I'll insist), so I had no worries had I gotten into trouble. Well, this was extremely simple. The worst part was cutting the stock shifter...I chose to cut the tab off with a cutting wheel (note, not Dremel). It still took about five minutes because I was careful not to cut the plastic. I didn't bother to take pics while I was doing it because IT WAS DAMN HOT. If anyone is familiar with Biloxi, MS heat, you'd know what I mean.
New bushings, short shifter and classic stainless steel knob (this thing is heavy). Here are the pics of the installed deal. Phuong just watched in amazement as did the install. Most of the time his finger was in his nose. :lol:
pH34r the blue skull LED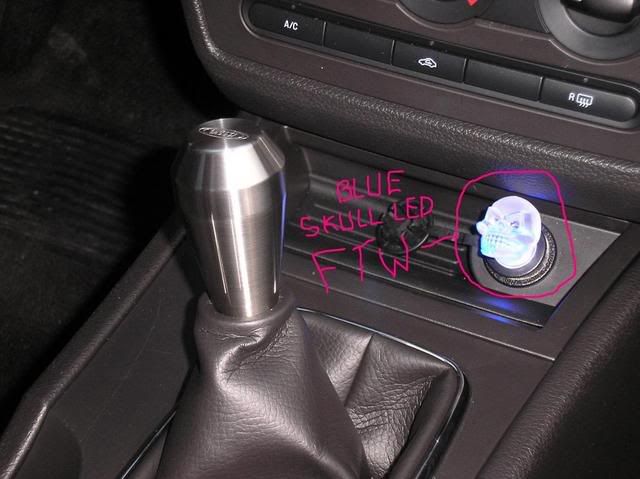 Let me just say that this shifter is AWESOME. No slop, very tight and it sounds great when you're shifting. It feels like a totally different ride and it gives the car a feel of a sports car. The height is perfect and you can adjust the height of the knob to your liking. I can still rest my elbow on the rest and shift. A definitely must mod.