Discussion Starter
·
#1
·
Still IN box, havent even opened it yet, just havent had the time, got it for eater from my family to play with, need the money for tires now. These things go for $359 retail. Take it for $225 obo + Shipping. I need to know by saturday night, because I am giving it to my uncle on sunday if its stil here. Here are a few internet specs:
This Kayak is constructed with three chambers total. Chambers 1 and 2 make up the Kayaks body. Chamber 3 is the inflatable floor cushion. The bottom material is a very heavy-duty PVC Tarpaulin. The top is a durable, waterproof fabric that adds to the stylish and unique look. Inside the cover contains the pressure of the tube, which allows the kayak to stay firmer that typical inflatable boats, and perform similar to a rigid kayak.
Features:
*
D-Rings on front and rear to tie down or tether gear to kayak
*
Molded handle
*
Splash guard keeps excess water from spilling into your lap
*
Mesh pockets for easy access to gear
*
Splash deck-zipper down cover keeps larger waves off and protects legs from sunburn
*
Bungee cord for holding extra gear
*
Map window/dry pocket
*
easy to transport most anywhere
*
Packs easily to explore remote areas
*
High strength zipper
*
Knuckle guards
*
Boston valve cover on inside and outside chamber to protect the air valve
*
Front and back skid plates protects the bottom from running the kayak ashore
*
Tracking fin allows the kayak ashore
*
Tracking fin allows the kayak to track similar to a hard-shell kayak
*
Weighs 29 lbs. + packing.
ok, some pics:
here is the ACTUAL :
here are 2 pics of what it looks like inflated: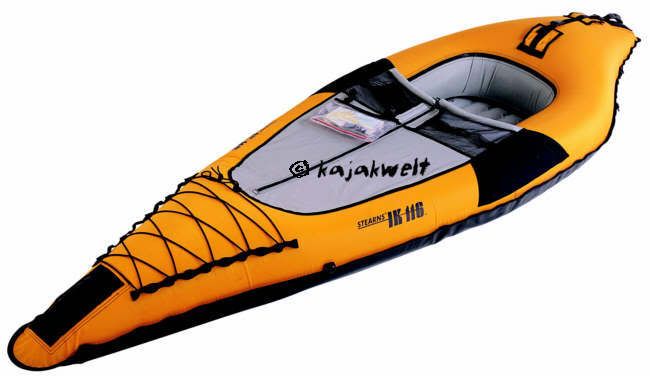 please PM me with offers, you never know, I might be having a good day and say, "why not" plus, my car is begging for tires/rims. I will have abunc of other stuff for sale soon as well.