Discussion Starter
·
#1
·
There doesn't seem to be a complete guide to this yet on this forum, and I had to research across multiple topics and create a couple new ones to get everything figured out for myself. My purpose here is to condense all my knowledge into one post, complete with pictures, and hopefully make things easier for others in the future.
This install will be done on a 2007 Fusion, with the 6 speaker system. Phase 1 is the installation of a
Kenwood DDX-514
double din DVD unit, along with a
PAC SWI JACK
steering wheel control adapter. Phase 2 is to install Elemental Designs
e3.65i's
into the front doors, powered by an Elemental Designs Nine.2 amp in the trunk. Phase 3 is installation of an Elemental Designs
e3.12
inside a sealed box, powered by an ED
nine.2
amp.
Phase 1- Headunit
Step 1: Connect the wiring harness from your headunit to the harness for the car. This is as simple as matching up the colors of the wires. Connect them however you want, solder, elec tape, butt connectors... it should all be just fine. I soldered most of mine and taped the rest. No picture is really needed for this. Be sure to attach a long remote wire for your amps!
Step 2 (optional): Connect the wires for the SWI JACK (or equivalent, depending on the brand headunit you choose). I have a seperate guide for this
here.
Step 3: Time to go out to the car! Remove the bezel around the headunit by prying it with your fingers, starting at the bottom. It will bend a good deal before the clips come out, just be careful and it WILL come out without breaking. Disconnect the wiring harnesses from the bezel (be careful not to hit your flashers, they'll stay on until you hook it back up to press the button again), and set the bezel aside. There are four bolts (7mm I think) holding the headunit in place (the top left one has already been removed in the picture). Remove those, unhook the harnesses, and your stock unit is out!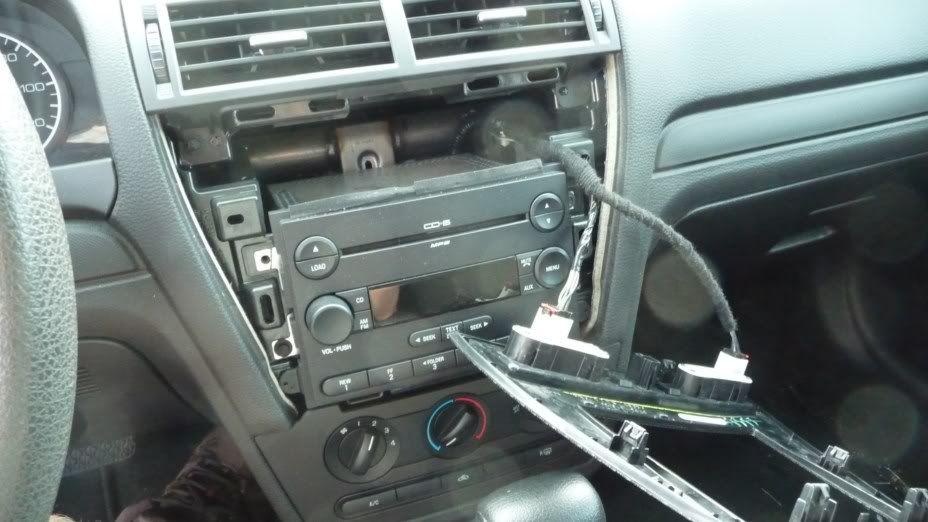 Step 4: Complete the wiring for the PAC adapter if needed. Fit your headunit into the proper dash adapter (mine snapped into place, I didn't have to use any screws at all), attach all the wiring harnesses, antenna adapter, and run your RCA cables if you will be using amps. Program the PAC adapter, and install everything back into the dash.
Phase 1 complete!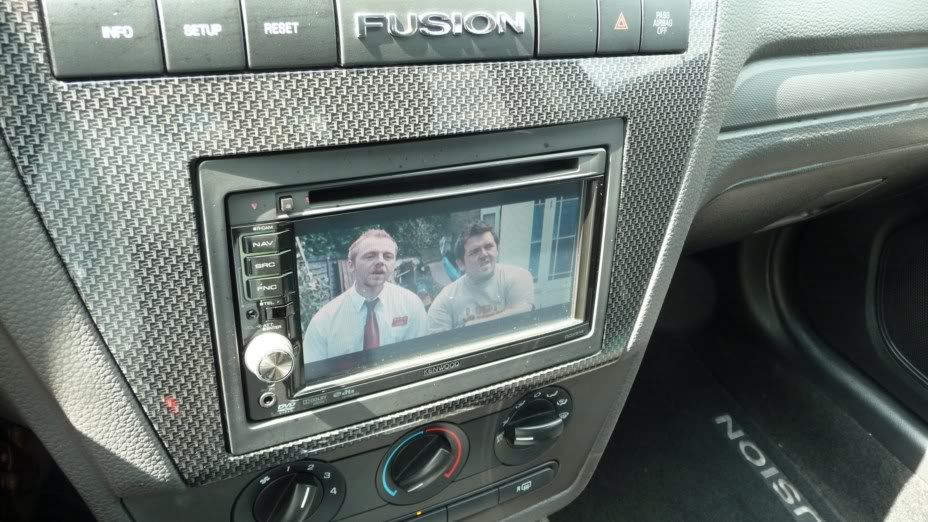 Phase 2- Door speakers & power wire
Intro: Keep in mind that your stock speakers will continue to function, powered off the headunit, until they are removed. I did my install in such an order that if I had to stop at any given step, I would still have music. For example, if you install the door speakers first, you'd have to cut into the stock wires or buy an adapter to power the new speakers. Since I plan on running an amp, there was no reason for me to do that, as I'd be running new speaker wire. If you don't plan on an amp, skip these first few steps and go right to the speaker installation (I do not have instructions on hooking new speakers to stock wiring). Or, if you are going to amp a sub, but not your doors, you will still need to run power, so read on!
Step 1: This step is the biggest pain. You are going to need to run a power wire to your trunk for your amp(s). I used 4ga wire for this. I might could have used 8, but I'd rather run bigger than needed and have some headroom.
First, remove your battery, negative terminal first. I had to use the nail removing end of a hammer to pry the terminals off after loosening them. After you do this, you will see a white plastic plug, and a rubber grommet to the right of it. I've heard of some people running their wire through the plastic, however I couldn't find where it was on the inside of the car, and wasn't willing to start removing parts to find it. After a few futile attempts at cutting through the rubber grommet, I decided to just push it to the side and run my wire through it that way. You're on your own as to exactly how you do this, and it would certainly be easier with a friend. I had to jam various tools through the inside of the car (you can see a bundle of wires going into the grommet), then pulling it back the rest of the way from the engine bay, shoving the wire through as far as I could, then grabbing it with pliers from inside the car.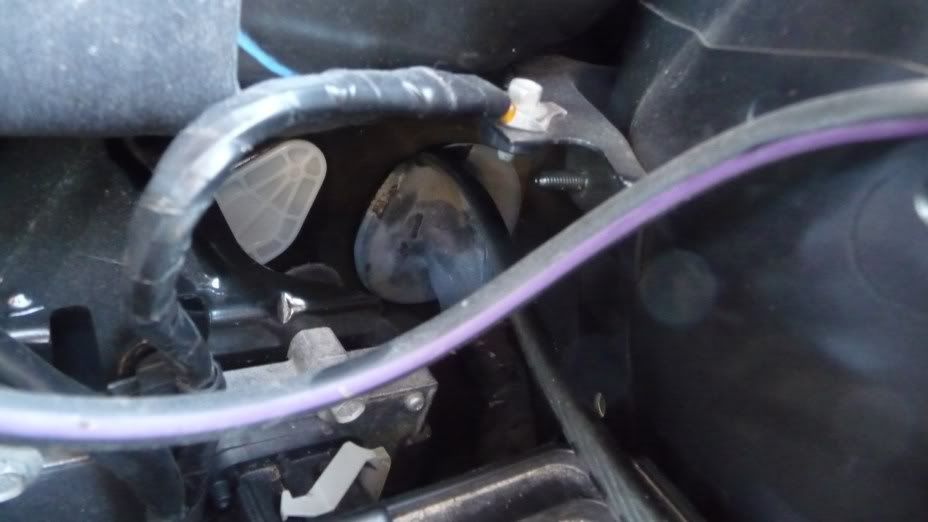 Pull your wire through into the car, and run it underneath the trim pieces along the floor, along the side of the rear seat, and into the trunk. You may need to pull on the trim pieces some to make enough room for the wire. The middle part between the doors is the most difficult bit.
DO NOT connect the wire to the battery until last! No reason to have a live wire in your hands, even with the negative terminal disconnected. Go ahead and put the battery back into place and hook it back up though.
Step 2: You should have RCA cables in your passenger floor from phase 1. Run these under the trim as you did for the power wire, until you reach the trunk. Do your remote wire from the headunit at the same time.
Step 3: Go ahead and hook up your amp where you're going to want it located. Personally, as this is phase2/3 for me, I have lots of slack wire. I ran my 4ga power and ground wires into distribution blocks, with 8ga going to my actual amps (only one is present now).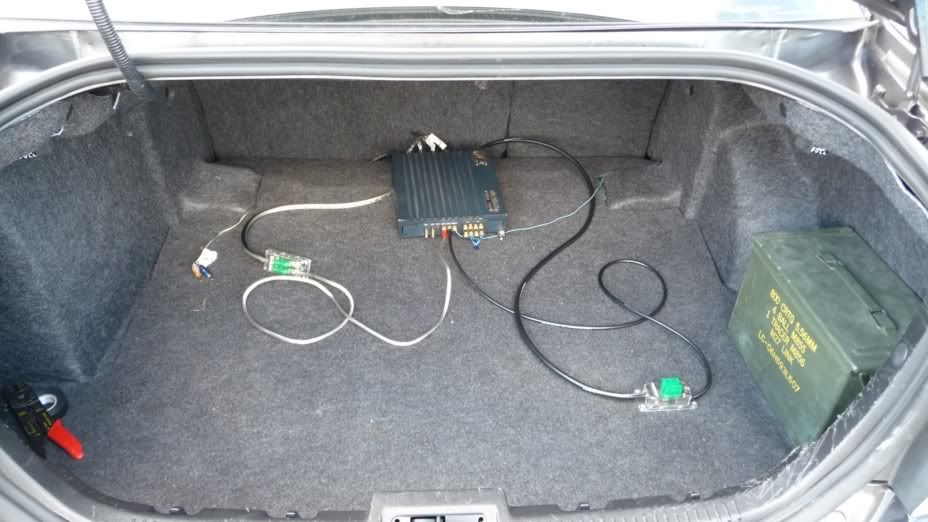 I used this location for my ground: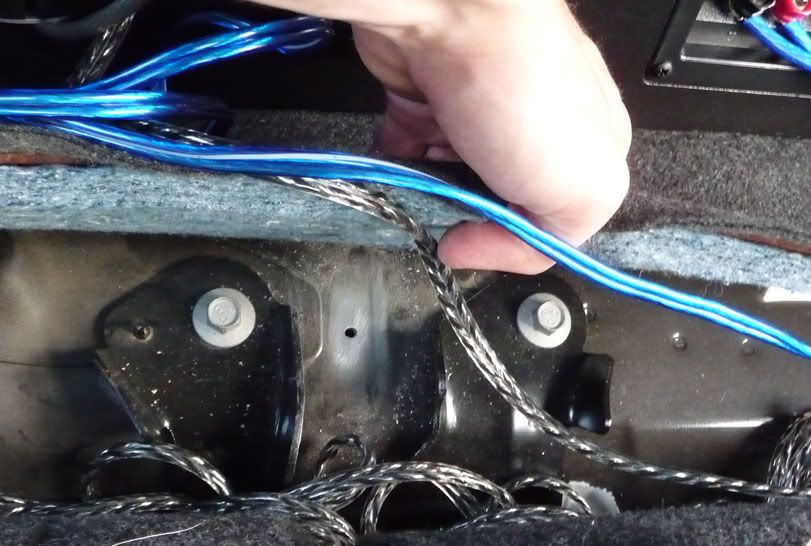 Note that I drilled a new hole, and sanded it down to bare metal. This provides a solid ground connection. You can see it with the wire attached in a later photo.
Step 4: Connect your speaker wire to the amp, then run it down one side of your car, going the reverse route as your power or RCAs did. I did the passenger side first, and my pictures reflect that. Once you get your speaker wire to your front footwells, it's time to take apart the doors.
Step 5: There are instructions for removing the door panels on another thread. A guide for the front doors is here:
http://www.mediafire.com/?nmsibdi30mc
The rear doors are here:
http://www.mediafire.com/?bdi9xmdw1z0
Credit goes to
this post
for those links. Keep in mind that I left the stock speakers in the rear doors alone, as I don't like rear fill, so those aren't addressed in my guide. Remove the stock speakers. The woofers are screwed on, and the tweeters have a clip, then 2 screws holding them onto the trim piece.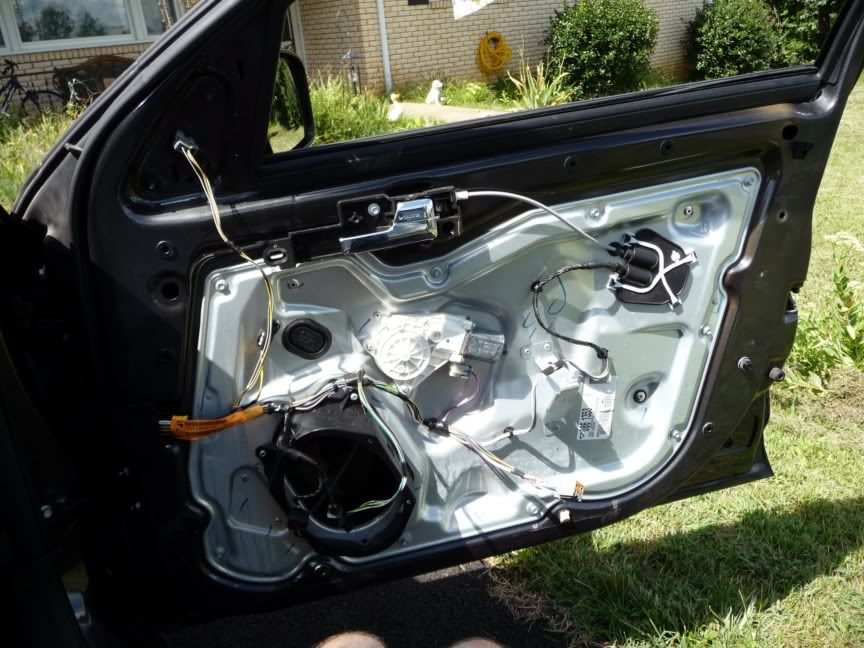 Step 6: This step was also a big pain. Looking at the door, you will see that there is a wiring harness plugged into the hole you need to run your speaker wire through: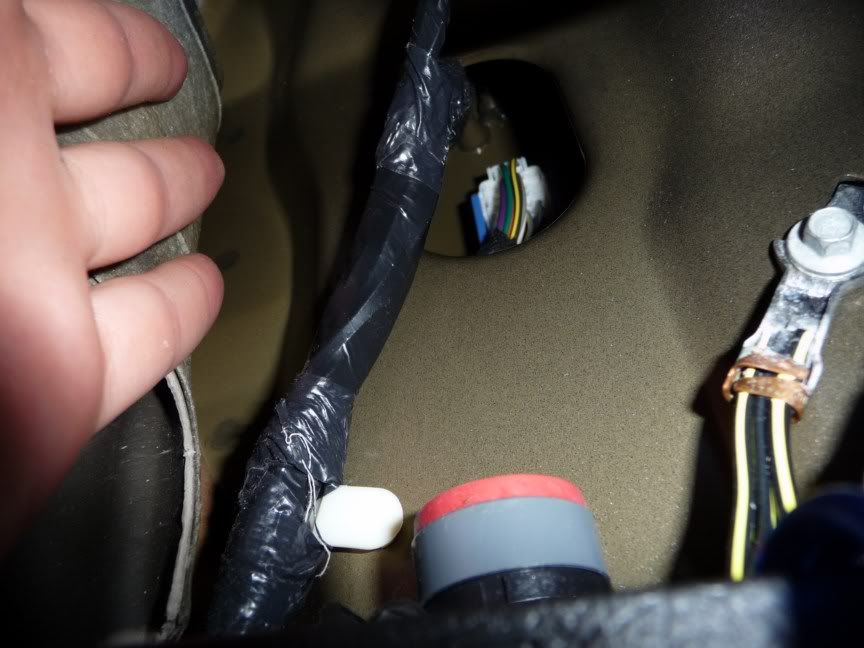 To remove this, pull back the rubber conduit that connects the car to the door.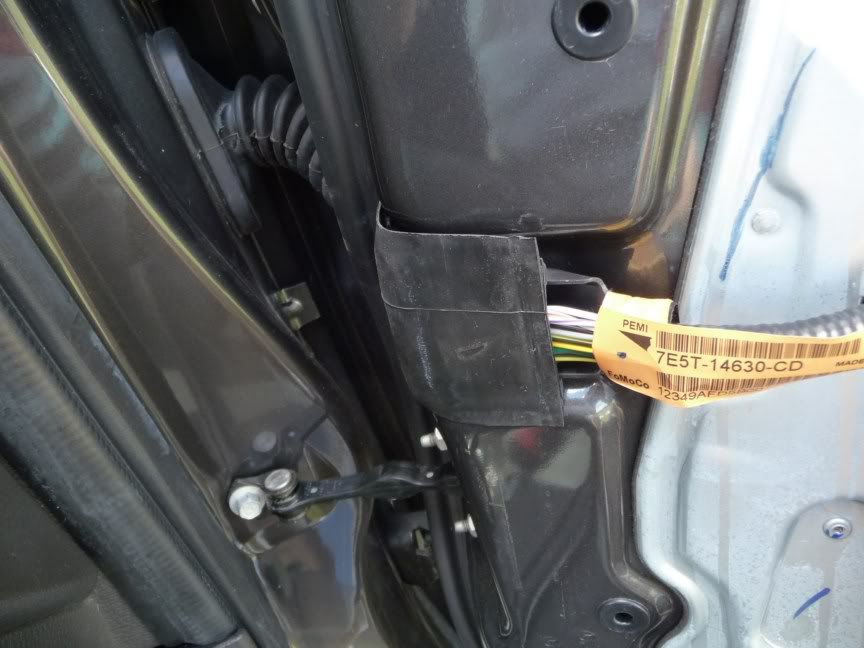 You will see the plastic harness. It has 4 clips holding it into place. I used a hex wrench to push these and remove it. A pick, bent clothes hanger, etc will work well also. It will likely take you a few tries to do this, as its a very tight area and will snap back into place on you. Pull the harness out:
And pull up the blue bit to unhook it. Remove the round piece (there's one clip on it) and drill a hole large enough for your speaker wire to go through:
Put it back together and use a wire fish, clothes hanger, etc to pull the speaker wire through the rubber conduit. It helps a LOT to pull back the flat part on the door first, as shown.
I later realized that it's easier to re-attach the rubber to the harness while the harness is still detached. It's a pain either way. Have fun!
Step 7: Now it gets easy. I had to make a bracket for my new tweeters. It looks like its about to fall apart, but it's actually holding tight: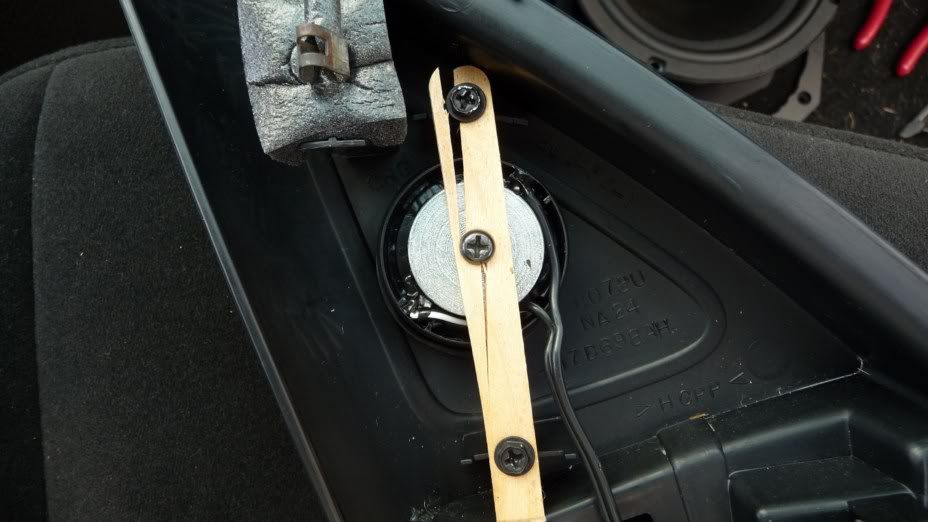 Attach this back to the car.
Step 8: Mount your speaker adapter (needed if installing a 6.5 speaker like I am). I had to dremel mine, and the car mounting spot, to make my speaker fit properly.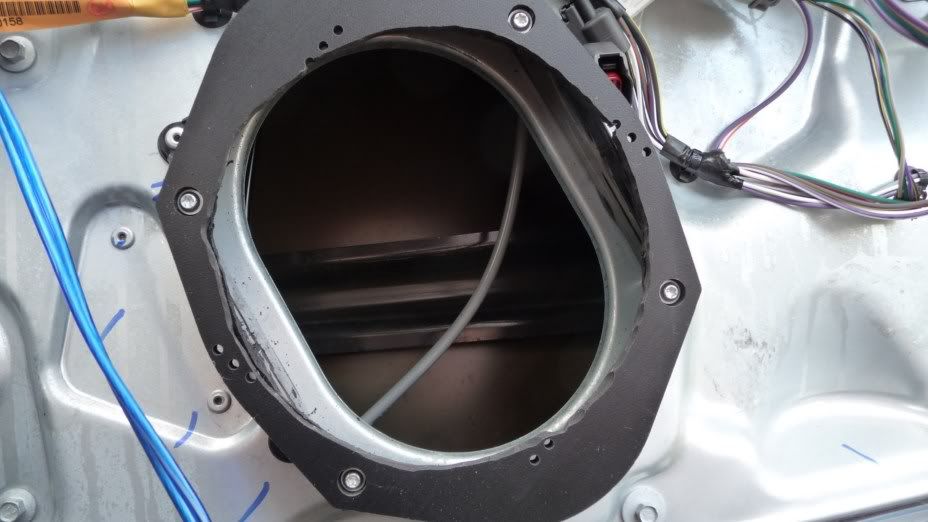 Step 9: Attach your speaker wire to crossover, speakers, and mount the woofer: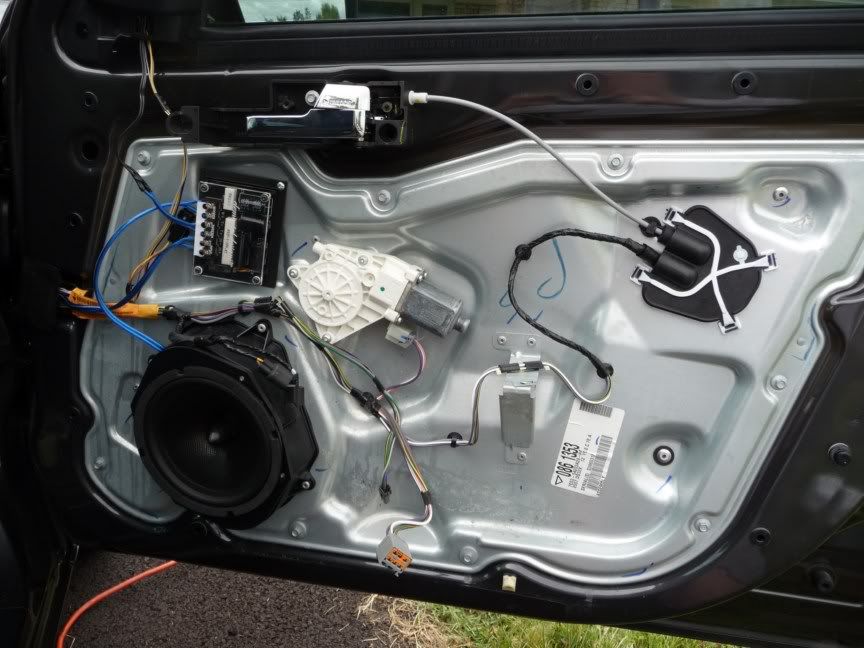 Step 10: Reattach your power cable to the battery (note the inline fuse! Do not forget this!) and turn on the car to make sure everything is working.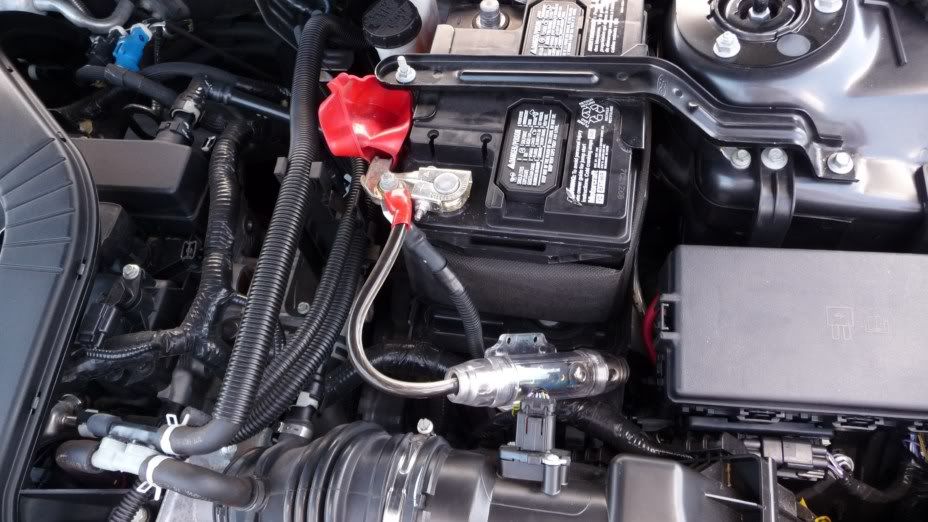 Step 11: Reattach the door panel. Keep a lookout for clips that stuck in the door instead of staying on the panel. You'll need to remove them and put them back on the panel first. Also, I had an issue where the top section of the panel didn't sit flush with the rest of the door. Turns out the clip it attached to the lower part with had pulled through and couldn't push back through. I had to drill it out to make the panel sit correctly.
Repeat steps 4-11 for the other door!
Phase 3-Subwoofer
I'll skip over the details of this stage, as it will vary a LOT per person. If you need help mounting your amps, building/picking a box, or wiring your subs, post up and we can help you! Again, my installation is two Nine.2 amps, mounted to the sides of a sealed, painted box, with a single 12" sub.
To mount my box to the car, I picked up some angle iron from the hardware store (should run about $5). I positioned my box where I wanted it, then laid down some masking tape and drew a line on it. This would be my guide for where I needed to cut the carpet: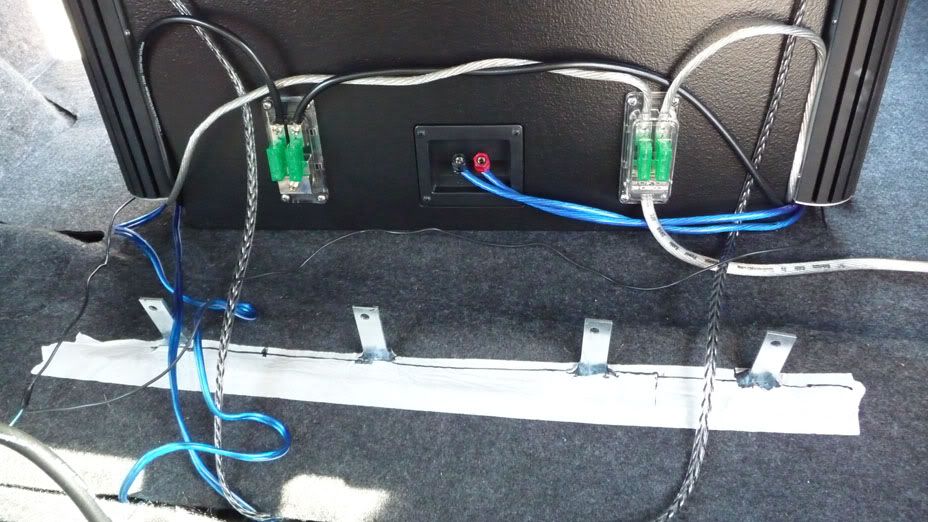 The view below the carpet: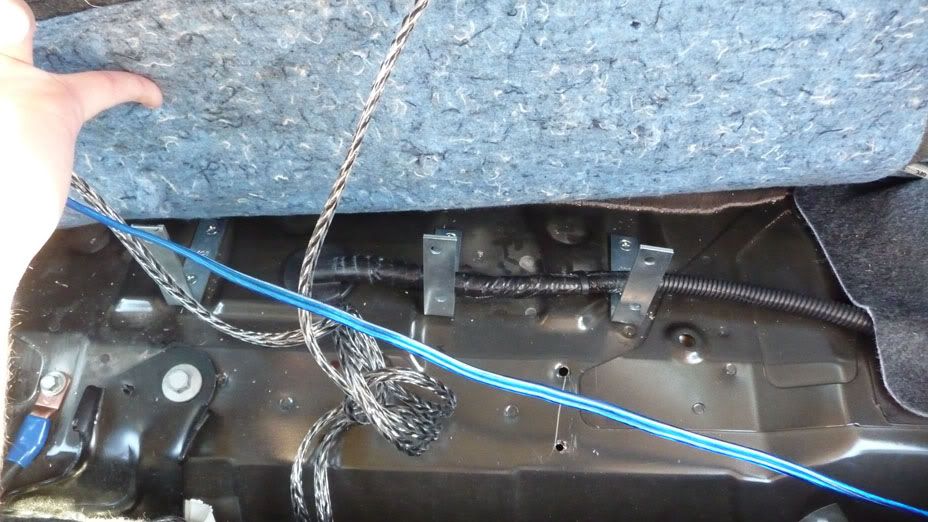 It is safe to drill anywhere inside the trunk area, from what I've seen, including the angled bit right behind the seat. Just be careful, as always. After attaching them to the trunk, cut through your carpet, push them through, then attach them to the back of the box, and finish up your wiring. From my first pictures, to the finished product, I managed to cut away about 18" each of power and ground wire. I had plenty of slack for start, but the shorter the wires, the better.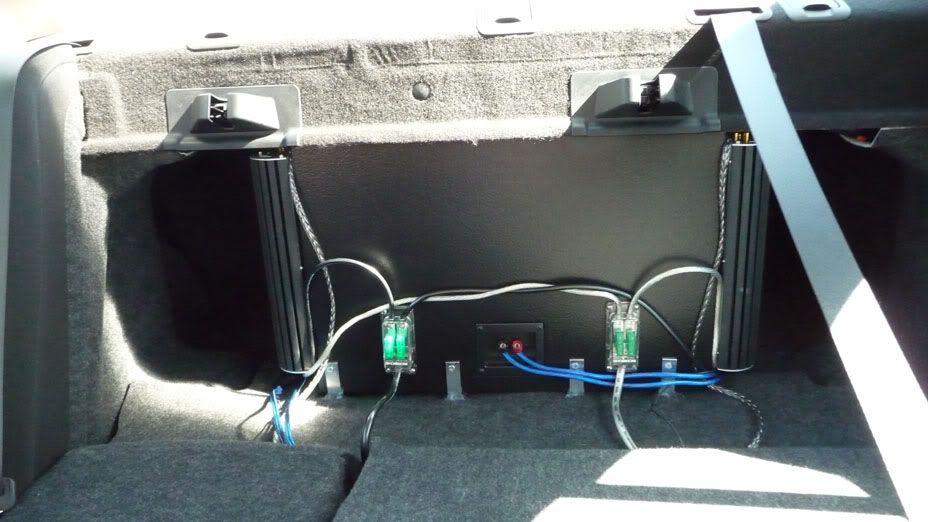 The tool kit and ammo can (contains a survival kit) have velcro on the bottom of them so they won't slide into my sub box.
System complete!
Remember, a LOT of phase 2 will vary depending on what size/type speakers you are installing, if you are amping them or not, and if you are replacing the rear door speakers or adding/replacing the rear deck speakers. Phase 3 will also vary a lot depending on type and number of subs, amps, size of box, etc. Have fun installing!