Discussion Starter
·
#1
·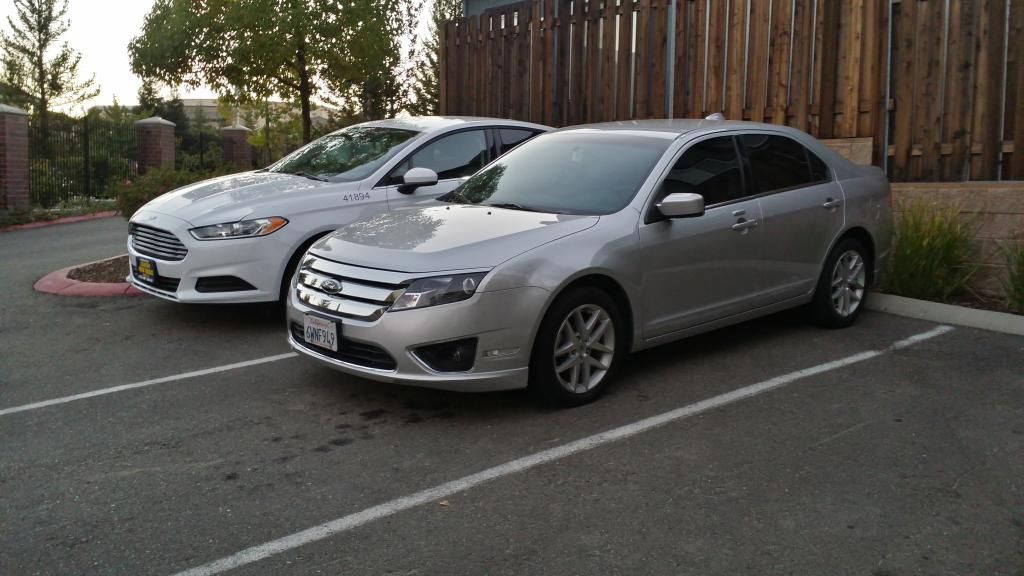 As many of you know I currently have two Fusions. A 2015 Fusion S and a 2012 Fusion SEL V6
I've put about 1k miles on the 2015 so far.. and in the 1.5 years of ownership of the 2012 I've racked about 7k miles (5k of that has been road trips).
Power: Well with the 2.5 and 3.0 there is no comparison. The 2.5 is gutless. It was chosen for its MPG and cost. Now the 3.0 in my V6 is a blast in comparison. Is it a true powerhouse? No.. but when you're talking midsize sedans it's comparable. Needless to say I almost got a 2.5 SEL fusion in 2012. I'm glad I didn't. The V6 option has a nice tone to it, sounds throaty, and there is enough power there to pass and let the vehicle have some fun in corners.
Handling: The 2012 handles very well stock for its size. I can tell the car where to go and it will go with very little slip. Body roll is there there but I don't consider it to be too bad. It can be improved upon. But lets put it this way.. my 2001 Durango with all new suspension and being an SUV can take corners better than my Fusion. The 2015 sucks. No real confidence in the handling of the vehicle. I assume cheap tires are at fault but.. with the lack of power to push it, it's hard to say just how much one can push it. But on that daily driving route it doesn't handle too well in comparison to my 12 model. The 15 also tends to wobble in the groves of the highway where as my 12 does not do this. Maybe the width of the 12 is just a tad bit wider to sit in the groves or over them. Who knows.
Interior: The 12 to me feels much roomier. I'm 6'4 @ 180lbs so I'm not big but tall. Of the few road trips I've taken I feel comfortable. Could it be bigger? Sure. But I could go a solid 5 hours of sitting without feeling the need to get out and stretch at the next fill up. The seats seem to be of better height and function and the steering wheel seems to fit quite well. For the 15 model it feels a bit cramped. Hard to be comfortable for long periods of time and kinda awkward to "lean" to the side. The center console is a bit more curved and noticeable. This is a no no with my right knee cap. I'll have a rub spot on the dash soon enough.
In terms of overall: The 2015 is quite nice. It's built well. Nice features. I love the layout of the stereo. Backup camera is a huge plus. Gauges are nice. Trunk is huge! Outside of comfort, power and handling it's a really nice car to keep up with the times.