Discussion Starter
·
#1
·
Tekwatch Fundraiser to fix the Darkwatch Mazda 3
Greetings to all, as you may or may not know, back on July 14th I was rear ended by a 19 year old girl in a 90 Ford Thunderbird. I was blasted through a Red light, no fault of my own.

My rear bumper was damaged with a puncture hole,scuff marks and gouge marks around my plate. The bumper has to be replaced and painted.

Well My Insurance estimated Damages at $720 and Body Shop agrees, Insurance adjuster  cut me a check for $475, which can only be cashed by the body shop doing the work.

I have to come up with the rest as my Insurance Deductible which is $250, this is where I need some help.

I have some items to sell and would like the Minimum amount I ask for each item or more if you want to PM me a bid, and I will update the post.

Any help would be greatly appreciated and very helpful, I do not have $250 laying around, and I want to get my car fixed A.S.A.P.


Here are the items and the price.
All Pictures are Clickable for enlarging.
Darkwatch Badges Please see this post
-
http://www.mazda3forums.com/index.php?topic=49510.0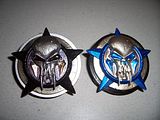 Heavy Metal Sword $150 or Best Offer,please PM with offers,all will be answered.
Click here for a picture
http://www.cbswords.com/images/HM0002ASLB.jpg
Actual photos of the sword at my house.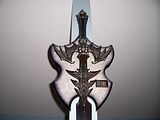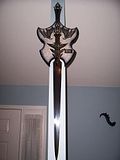 Highlander Complete Seasons 1 - 6 , New condition with collectors box , hardly ever watched.
$150 or Best Offer, again let me know if your interested,make me an offer please.
Click here for more details -
http://www.amazon.com/gp/product/B0007DA3V6/002-2013598-7406446?v=glance&n=130
Actual photos taken at my house
Darkwatch Video Game for XBOX- This is a Signed copy,signed by the game Designers,Producers and Developers from High Moon Studios. A real collectors item.
$45 or Best Offer.
Click here for more info -
http://www.gamespot.com/xbox/action/darkwatch/
Actual photos taken.
CSI Seasons 1 - 4 Complete DVD Sets. Seasons 1 & 2 in separate DVD Boxes. Seasons 3 & 4 in 1 Box set.
$50 or Best offer.

Actual Photos
Various Knifes- These are all 3,4 and 5 blades - All folding, throwing knifes. All made of Steel and good quality. They have never been used, just for display.
Asking $15 each or all 4 for $50.
1- Cyclone 3 blades
2 - Pirates of the Caribbean 3 blades
3 - Dragon Fury 5 blades
4 - Rebel Edge Skull/Celtic 4 blades

PM me for more detailed info or pics.

Actual Photos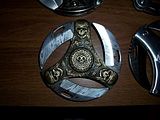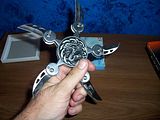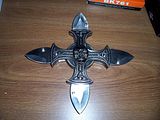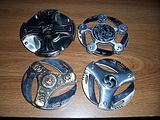 Shipping on all items will be Priority Mail with Actual shipping charges, I will always be fair with shipping and package very well.
That's all I have for now,maybe more later. These are all items Id love to keep, but I need money quick to get my car fixed.

Thanks in advance to anyone who buys something.

If you need more information on anything I listed please ask and make me an offer on anything you see.
E-Mail me at
[email protected]
Please post here as well, I will respond A.S.A.P.