Discussion Starter
·
#1
·
This is a great Logitech cordless keyboard and mouse combination. I'd still be using them, but we got wireless DSL, and I guess the signals interfered between everything, so the mouse and keyboard stopped working. It is not Bluetooth, so you probably don't want them if you have wireless internet/network, you might run into the same interference problems I had.
The keyboard is a multimedia keyboard, with lots of extra shortcut keys on the keyboard, as well as media controls like volume, stop, play, forward, back, mute, etc. It runs off of two AA batteries, and in the entire time I used it, I never had to replace them. They're either at the end of their life, or the batteries last an insane ammount of time like a clock. Either way, I was very impressed with how long the batteries last.
The mouse has two main buttons, a scroll wheel that also acts as a button when clicked, two buttons that will cruise up and down a page when held, a button for switching back and forth between windows (think ALT+TAB) as well as forward and back buttons by the thumb, that make cruising the internet or IE windows on your computer a pleasure. I play a lot of computer games, and this mouse was always touted as having no lag in response time. It felt just as responsive as other corded mice I've used. It's somewhat heavy, because it holds two rechargable batteries. I never had any problems with it, though, it was just weird to switch back to a corded mouse after getting the wireless DSL.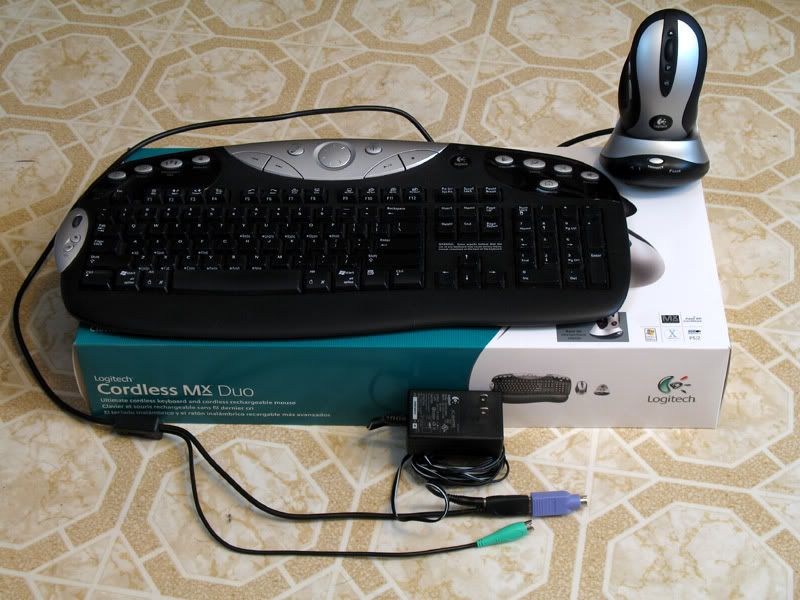 Both keyboard and mouse connect wirelessly to a dock that plugs into your mouse (or USB) and keyboard ports. It also has an AC adapter for power. The dock doubles as a recharging station for the mouse. A light on the mouse starts blinking when it's getting low on power... simply set it in the dock and let it charge back up. There's also a pad that goes with the keyboard for your wrists if you chose to use it. I have the installation CD with software on it, although you'll probably wanna go here
http://www.logitech.com/index.cfm/downloads/software/US/EN,CRID=1796,contentid=6997
for updates. I'm not sure where I put the manual for them. If I should find it between now and the time they're sold, I'll throw it in there too, but it's the generic mumbo jumbo you guys have read dozens of times over. There's a quick start quide that has all the information you'll actually need to hook everything up, and get the wireless connections going. I've got the original box to pack everything up in, if it matters.
I think I've covered everything, if I left anything out or if you have any questions, just ask and I'll answer. I can take more pictures if you guys need or want more detail. I'm thinking $60 for the bundle, including the shipping (I work for FedEx Ground and get a kick ass discount, so don't worry about that :wink
or best offer. It was a hundred dollars a couple of years ago when I bought it, so you can work me down on the price if you think it's too high. I don't have Paypal, so I'm open to whatever payment option you wanna do.