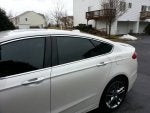 The paint match on the white platinum is pretty damn good. Turn around time was about 10 days shipped. Customer service was awesome! They're don't list 13 Fusion but after a quick email Arthur from VG got back saying the Mark II antenna was compatible.
If interested in ordering one for yourself, send an email to
[email protected]
to place an order. Include your year, make, model, and paint code. He'll then email you an invoice to pay.